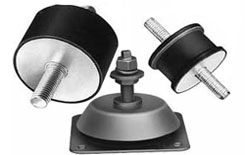 Rubber shock absorber is an important kind of damping element, has been widely used in various fields ,such as machinery, automobile, locomotive, watercraft, aircraft and other aircraft. We can say that those where need to use the damping and isolation areas require the rubber shock absorbers.Rubber shock absorber is so widely used, because of the effective using of many rubber's characteristics as follow
1.Rubber has high elasticity and viscoelasticity
2.Compared with the steel, rubber has large elastic deformation and small elastic modulus
3.The rubber's shock stiffness is greater than the dynamic stiffness, dynamic stiffness is greater than static stiffness, It helps to reduce the impact deformation and dynamic deformation;
4.The rubber is incompressible materials (Poisson's ratio is only 0.5)
The advantage of the rubber absorber
1.As rubber has damping characteristics,the rubber absorber can change the vibration energy into heat energy, it is better than metal in absorber capacity, especially suitable for high-frequency vibration.
2.Rubber shock absorber has simple structure, it is easy to maintenance, almost not need repair, no wear, no rust and not need oil lubrication, and no sensitive to water and dust.it is safe , reliable, low cost and sufficiently long service life.
3. As the high internal friction and good damping effect,it cause easy to run cross the resonance region to reduce high frequency vibration and noise;
4. Easy to Installation and remove
5.The rubber shapes can be free designed, and the stiffness and strength requirements in different directions can be meet by adjusting the rubber hardness.
Application
1.Automobile and other vehicles,
2.Railway locomotive and railway sleeper,
3.Air compressors and pumps,
4.Construction and Bridge dampings
5.Industry machines