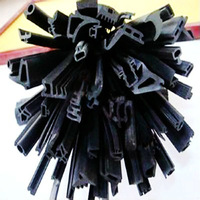 Rubber Extruded Parts
We are producing Extruded Rubber Profiles,Extruded Rubber Tubing,Extruded Rubber Strips,Extruded Rubber cords,Extruded Rubber Channels.Any needs please feel free to send email to us.
CS Rubber is a manufacturer and exporter of Custom Extruded Rubber Products including Extruded Rubber Profiles, Extruded Rubber Tubing , Custom Rubber Extrusions, Extruded Rubber Strips, Extruded Rubber cords, Extruded Rubber channels. We are committing to the automotive industry, marine industry, construction industry(door and windows), home appliances, bathroom, electrical and mechanical euipments and other industries.
With many year improved,our main extruded rubber product including as follow:
1)Automotive sealing strip
Main usded in door frames, side windows, front windshield ,rear windshield, boot lid bonnet,

2) Doors and Windows Seal
Mainly used in steel doors, aluminum doors and windows, wooden doors, automatic revolving door, walls and other architectural doors and garage doors, shutter doors, cold storage doors, glass curtain wall sealing tapes, industrial doors granary doors.

3)Mechanical and electrical equipment seal:

4)Solid Rubber And Silicone Cords
Material:
EPDM, Silicone, NR ,NBR, etc are available
Characteristic:
●The cabinet seal has good elasticity and anti compression deformation, aging resistance, ozone resistance, chemical effect, long-term use of deformation
●Excellent aging resistance,
●Use temperature range (-40 ~+120 DEG C) in the long-term the temperature won't crack aging
●Compression permanent deformation (180 C *22h) 40 ~ 18%, -50 C to maintain good flexibility, no odor
●Strong and durable. I
●Meet the ROHS environmental directives,
The extrusion rubber parts we manufactured is high quality in resistance and elasticity.different sizes,different colors and the rubber's hardness are available according to our customer's request.